Travis Enholm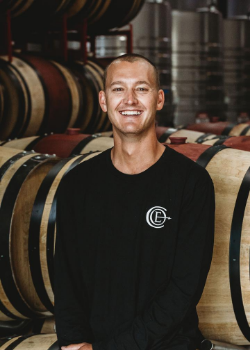 Born and raised in Santa Barbara, CA, Travis Enholm became interested in winemaking at California Polytechnic University, where he enjoyed exploring a number of introductory level wine classes. While in college Travis worked his first harvest at the Margerum Wine Company in Buellton, CA. He graduated Cal Poly in 2017 with a Bachelor of Science Degree in Wine and Viticulture with concentration in Enology.
Throughout school Travis was able to gain work experience in the wine industry. He put in time working in the Edna Valley's small and innovative winery Claiborne and Churchill in the tasting room and was able to gain larger scale production experience at E&J Gallo's Courtside Cellars and Edna Valley Vineyards as a Winemaking Intern. In early 2018, he was hired as a cellar technician and then cellar lead at Chamisal Vineyards.
Travis started at Center of Effort in late 2019 as a Cellar Technician. His hard work and knowledge quickly earned him a promotion to Cellar Master, directly overseeing winery production operations and a cellar crew of six technicians. Travis works closely with the winemaking team to organize the workload, oversee training of staff and temporary employees, and develop winemaking protocols. He also holds primary responsibility for safety training as well as oversight of maintenance and service contractors.
As Center of Effort continues to grow and gain recognition, owner Bill Swanson is pleased to have Travis as part of the team saying, "it is great to have a fellow Cal Poly 'Mustang' Alum on the team, especially given his drive, interest in innovation and his passion to dedicate himself to the long-term success of the winery."
Nathan Carlson, General Manager/Winemaker for COE, adds that "Travis has been an exceptional addition to our team, and we are completely confident in entrusting him with this added responsibility. The Cellar Master role is the hub of any winery, requiring a strong rapport and trust with coworkers, and attention to thousands of details. I am looking forward to his growth and continued contribution to the quality of our wines."
Travis explains that as he continues to gain experience in the wine industry, "I now realize the importance of stewardship of the land that we farm. There's a real passion to enhance practices in accordance with sustainability. The connection between sustainability in the vineyard and growing wine grapes for maximum quality is getting stronger, and I am very happy to be a part of a place that embraces that ideology. Helping manage our site and facility in this way is a new challenge for me, but it's a rewarding one because the Center of Effort property is truly special," says Travis.
As a native Californian, Travis loves the active, outdoor lifestyle. The central coast is an ideal place for him because of the ocean and surfing, the people, the climate, and of course, wine.