Sarah Hinrichs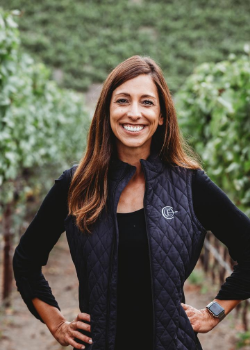 Native Californian Sarah Hinrichs graduated from California Polytechnic San Luis Obispo in 2006, with a Degree in Business Administration and a concentration in Accounting.
After graduating from Cal Poly, Sarah worked for a public accounting firm in San Luis Obispo for 2 years, after which she left public accounting and worked for Heritage Oaks Bank, a local community bank, for almost ten years. During her time at Heritage Oaks Bank, she worked as a Financial Reporting Specialist, General Accounting Manager and Assistant Controller. Her time at the bank provided her with an opportunity to learn public company reporting, internal controls, payroll, accounts payable, fixed assets and ultimately how to manage those functions for the entire bank.
After almost 10 years in banking, Sarah was excited to take a different direction in her career and joined Center of Effort in the fall of 2017 as Chief Financial Officer. She oversees the day to day accounting, cashflow, financial reporting, financial analysis, Human Resources, and insurance for the business, while also managing outside vendors for large projects on the property. Sarah works closely with GM/ Winemaker, Nathan Carlson, on the needs of the entire business.
She is happy to be part of the team at COE as they continue to grow the business. "The COE team is diverse and I believe we all have experiences that we use to continue to grow the business together. I'm always learning from my colleagues and peers," says Sarah. Owner Bill Swanson is "thrilled to have another bright and forward-thinking fellow Cal Poly grad on our team!"
Sarah grew up on the Central Coast of California. She is married with two school-age children. They are an active family and enjoy hiking, spending time with family and friends, attending sporting events and traveling.