Kevin Bargetto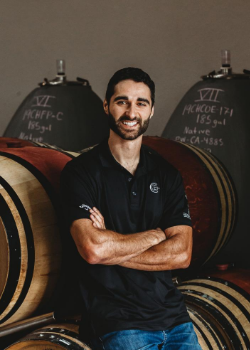 Winemaking has always been in Kevin's blood. His father's side of the family has owned and operated a winery in Santa Cruz, CA that has spanned multiple generations. "Winemaking is in my blood whether I like it or not," jokes Kevin.
He began helping at his family's winery during summers while in middle school. Kevin worked on all sides of the business, including events, shipping, maintenance and hospitality, but most of his time there was spent working in the cellar. Sanitizing tanks, filling and topping barrels, working the bottling line and pressure washing any conceivable surface was part of his daily routine. He attributes this time as the genesis of his interest in the wine industry, spurring him to pursue a degree in winemaking.
Kevin's first job away from the family business was an internship working vintage at The Wine Workshop, a small custom crush facility, while he was studying at California Polytechnic State University.
While pursuing his degree in Wine & Viticulture with a concentration in Enology at Cal Poly, Kevin also had the opportunity to participate in a wine-focused study abroad program based in Adelaide, Australia, where he toured the Barossa Valley, Adelaide Hills and McLaren Vale. There he saw some of the most prestigious wineries located in that region, broadening his awareness and interest in winemaking methods in other parts of the world. Upon his return to San Luis Obispo to complete his college studies, he began working in the cellar at Center of Effort in 2015, staying on after harvest.
After graduation, Kevin returned to Australia for a vintage in the Margaret River, before returning to Center of Effort in 2017 to assume the position of Cellar Master, managing the crew, facility and wine work. He left for another vintage stint abroad in 2019, this time in Central Otago, New Zealand to focus on Pinot Noir. Upon his return from New Zealand, Kevin rejoined the team at Center of Effort and has just been named as Winemaker for COE.
"Like me, Kevin is a Cal Poly grad who shares our love and respect for this area and the Edna Valley. His incredible attention to detail is a main quality we look for in building our team," says proprietor Bill Swanson. Head winemaker and general manager Nathan Carlson adds, "winemaking at the highest level is a collaborative process. It requires trust and lots of communication. Kevin demonstrates care for all the members of our team and works hard to develop their skills and emphasize their natural strengths."
Kevin now helps oversee all winemaking activities from picking decisions to final blending and bottling. Alongside Nathan Carlson, he ensures that expectations for Center of Effort's top-quality wines are met. Kevin has enjoyed the launch of COE's new Rhone program with the development of Grenache, Syrah and Mourvèdre plantings, and has also enjoyed redeveloping some older blocks of vines with new and different clones. These efforts give COE the complex and distinguished wines they strive for.
Kevin feels that recent wine industry trends are focused on three things, all of which Center of Effort excels at: hospitality and the whole "wine experience," a blend of a beautiful environment, service and attention to detail; an increased focus on the winemaking and viticulture process; and climate – vintners and consumers alike are more aware of the value of sustainability to wines as climate change affects this sensitive and nuanced agriculture product.
In his free time, Kevin likes to be outside mountain biking, skiing, backpacking and exploring the beauty of California and beyond!