Bill and Cheryl Swanson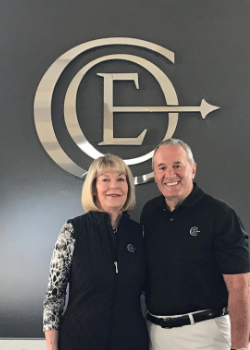 William H. Swanson retired in 2014 as Chairman and CEO of the Raytheon Company, a Fortune 100 leader in aerospace technology and innovation, after 42 years with the company. Bill and his wife Cheryl acquired the Center of Effort property in 2008. They have since returned to their home in the San Luis Obispo area where they met, and where Bill earned his degree in engineering from California Polytechnic State University. Bill applied many aspects of the highly successful culture and cost structure he implemented at Raytheon to the wine business. Despite how different these businesses are, his strategy has indeed made COE a highly respected, top estate winery over the past decade.
Bill and Cheryl have traveled extensively over the years, savoring some of the world's finest wines along the way. With Center of Effort, they endeavor to bring the best of their experience together and share with guests their vision for world-class wines and hospitality. They have built the Center of Effort estate into a sustainable, beautifully designed facility with a stunning new hospitality center, where unparalleled wines are created for their discerning members. Bill and Cheryl attribute their success to the great team they've put together at COE, who all take pride in high standards and working together as a family. Bill also admits that he likes to add teammates that "I would want to share a glass of wine with."
In addition to devoting his time to Center of Effort, Bill continues to sit on numerous public and private boards, as Chairman of the Cal Poly Foundation board, and as a Board member of NextEra Energy and chair of the audit committee, among others. He is vice chairperson emeritus of the John F. Kennedy Library Foundation Board of Directors, a former member of the CIA officers Memorial Foundation board of Advisors and the President's National Security Telecommunications Advisory Committee.
He has received many awards, among them the Semper Fidelis Award from the Marine Corps Scholarship Foundation and Aviation Week and Space Technology's Laurel Award. In 2019 he was recognized with the Navy Distinguished Civilian Service Award; he received the Navy League Fleet Admiral Chester W. Nimitz Award, the NDIA James Forrestal Industry Leadership Award, the John W. Dixon Award from AUSA, Diversity Best Practices CEO Diversity Leadership Award, the Woodrow Wilson Award for Corporate Citizenship and the Kennedy Greenway Vision Award, to name a few.
Swanson is a noted collector of cars and is, fittingly, particularly drawn to hypercars, the pinnacle of engineering, technology and speed. His collection, featuring many Ferraris as well as Ford GTs, Bugatti and Porsches, was recently filmed for a video exhibition by the Petersen Museum in Los Angeles. Bill is also an avid golfer as well as a philanthropist. Bill and Cheryl's current projects include a chapel for San Luis Obispo's French Hospital, a premier women's beach volleyball complex at Cal Poly, a conference hall for Cal Poly's new center for wine and viticulture, and a clubhouse at Dairy Creek for the men's and women's golf teams as part of the Swanson's Golf Program at Cal Poly.
Bill has returned to his roots with Center of Effort. He credits his grandfather, who emigrated to the California San Joaquin Valley from Croatia's Dalmatian Coast, for inspiring his love of wine, and teaching him about vineyards and winemaking. He grew table grapes and made wine in the basement of their home. "My grandfather taught me that 90 percent of what's in the bottle comes from the vineyard; that is where it starts. Respect the land, take care of it and you'll have a good shot at having good wine."